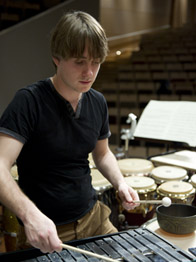 An Irish musician of Romanian origin, Alex is quickly establishing himself both nationally and internationally as a percussionist of the finest calibre. His debut album, "Alex Petcu: In Time", released on the RTE lyric fm label, showcases both seminal works and new contributions to the percussion repertoire.
Alex performs in a wide variety of settings with a multitude of orchestras, ensembles and groups, however, his main specialty lies in solo and chamber music. As a soloist, recent appearances include performances at the West Cork Chamber Music Festival, Kilruddery House and National Concert Hall to name a few. He has performed as a soloist with both RTE orchestras and the Irish Chamber Orchestra, and had successes in major national and international competitions such as the Irish Freemasons Young Musician of the Year, Tromp and A.R.D. International competitions.
Alex enjoys being involved in the creation of new music for percussion and regularly collaborates with composers. Examples of recent projects include "Beats, Bells and Bridges" and the Abbey Theatre's production of Shakespeare's Twelfth Night, both collaborations with composer Tom Lane, "A Most Peculiar Wintry Thing", a children's show jointly commissioned by The Ark and Music Network with music composed by Brian Irvine and "Invitation to a Journey", a dance/theatre/music collaboration with music by Deirdre Gribbin. He is a regular performer with the Crash and Hard Rain ensembles, two of Ireland's main contemporary groups, and is a founding member of the Bangers and Crash Percussion Group, a new exciting percussion ensemble.
Alex also enjoys performing in an orchestral setting and is a regular extra player for the various professional ensembles in Ireland such as the RTE Symphony, RTE Concert, Irish Chamber, Irish Baroque and Ulster orchestras.
Aside from his performing activities, he is also a keen teacher and currently teaches percussion at the CIT Cork School of Music. He has also given lecture recitals at Ireland's universities, provided workshops for West Cork Music's "Tuning Up" outreach scheme, Music Network, the ESB and more. He also holds an MA in music performance from the CIT Cork School of Music and an MSc and BSc in Physics from University College Cork.