Announcing my debut album!
Wednesday, September 28th, 2016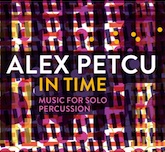 Finally it's here! My new album, Alex Petcu: In Time
For more info on what's on it, where you can get it, etc, follow this link.
And that hobby is ...
Friday, May 27th, 2016
Making stuff!
I tried to make some bell plates! I actually made 4 of them last year but they weren't tuned to any specific notes. I used those four, however, as a guide in order to find out the dimensions of metal I'd need to cut to produce certain pitches. Was great fun discovering the physical principles of how they work, how they're related to other instruments and now having worked out the physics, realising that the same principles can be applied to so many other things.
Have a listen to them yourself. Not too shabby (but not perfectly in tune. There are specific reasons for that which I'm aware of ...)
Think I've found a new hobby.
Friday, April 15th, 2016
Think I've finally managed to find something to do related to both music and physics.
National Concert Hall Rising Star recital
Wednesday, February 25th, 2015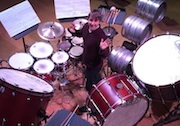 Had such a great time putting on this concert at the National Concert Hall last week. I really went all out and used a crazy amount of instruments. Between moving them into the rehearsal room, moving stuff back to Cork, back to Dublin and so on, I definitely gained a bit of muscle mass!
Was great to basically be given carte blanche to do whatever I wanted, so I decided to present a really varied programme, giving the audience a taste of all the fun stuff that one can do with percussion. Above, you can see a picture of me being happy surrounded by drums just a few hours before the performance. :-)
A.R.D. Competition
Sunday, September 21st, 2014
Some seriously amazing playing at the A.R.D. competition this year. Unlike violin and piano, solo percussion is a fairly new concept. This means that the pinnacle has yet to be reached and once of the most exciting things about doing these kind of competitions is how you see the standard going up year after year. This year, the standard was particularly high and I don't think I've seen solo playing quite like it yet. Congratulations Simone Rubino, Alexej Gerrasimez and Cristoph Sietzen, you've certainly set the bar really high!
Twelfth Night
Monday, May 26th, 2014
I'm just after finishing a run of Shakespeare's Twelfth Night at the Abbey Theatre for which I was the only musician. Tom Lane did a class job and wrote all the music for me, members of the cast who were singing and some electronic stuff too. I must say that I absolutely loved it! Everyone was really nice and I really got the feeling that everybody wanted to make the thing as best as can possibly be. To be honest, I felt like I was in a bubble for that time and now that the bubble has burst, I feel kind of weird.
One thing that felt quite different for me was the time given to rehearsals. The cast had 6 weeks and I was in for 4, which is way way more than usual for me (when it's often one or two days before a gig, if not on the day itself!). I suppose, with a month of shows that can be afforded, but I really do think it helped because there's time to learn the stuff, then you can add your own ideas. In particular, the first week it was just myself and Tom in a studio going though stuff, trying out various ideas (some that we never used). We could probably have done that way faster but I think that week was what brought the music to where it was for the shows.
I think I'll reread the part in Steve Schick's book where he talks about the merits of slow learning. :-)
Holland once again
Wednesday, May 22nd, 2013



So, today I was back in Holland at Adams once more, this time to test out some vibraphones before deciding on which one to get. You can see what it will look like above. The only issue is I won't get it until September!!!
On my way back I decided to stop in Eindhoven for an hour before catching my flight home. Now this place has a certain meaning to me because this is where the Tromp Percussion competition is held (that I participated in twice). During the most recent competition we often (or almost always) ate at this Italian place right in front of the concert hall. In addition to this was the obligatory daily (or sometimes twice daily) delicious ice cream from this place. The pictures above show a sample of a typical dinner and the desert before it disappeared.
Looking back
Wednesday, March 6th, 2013
So, I'm now sitting in my new apartment in Graz, Austria, feeling quite full with the dinner just ate. I'm here in Graz for three weeks, then three weeks back in Ireland, then here again for a month and a half or so. The past few weeks have been pretty crazy, in a good way that is, but this is now the first time I can sit down properly and think.
I always find it very difficult to plan things for the future and one thing the past month has taught me, is that I can concentrate on only two things at once and no more. For example, one week I had a run of the Sound of Music, which was pretty easy and relaxed. The next week I had to perform a solo recital and play with the ICO, and the week after I had to play another solo recital for the YMFE competition (which I won!) and also with the Crash Ensemble. During the week with the Sound of Music I should have probably practiced for all this stuff, however I could only think of the next two gigs and nothing else, even though the Yamaha bursary was probably the most important.
The workshops went really well and we got some really good feedback. Was nice to see so many kids enjoying themselves, etc.
Now for a completely different topic, I'd like to share my experience of last Friday. I was rehearsing with the Crash Ensemble in that period and on this particular day, I only had a rehearsal from 6 to 9 in the evening. I got up pretty early and had the car, so decided to head up into the Wiklow Mountains by myself. Drove up and after some amazing views, went down to Glendalough, an area where there are two lakes with mountains on either side, etc. Went for a three hour walk, part of which invloved me climbing up around 1000 steps! The view was amazing from the top of course. Anyway, what I want to say is that during a busy period, taking time like this to get away from civilisation is great! One of the reasons why I enjoyed this so much is because of all the work I was doing around it. Here are some of the views.




Latest ramblings
Thursday, January 24th, 2013
Next week is the start of quite a busy period for me and it's a huge relief that this has all lined up so nicely, as I'll need to foot half the bill for this new marimba! By the way, it arrived yesterday and yes, it sounds amazing!!!
To start with, I'll be joined by fellow percussionist, Clare O'Keeffe and together, we will be providing around 20 workshops for schools as part of West Cork Music's Tuning Up programme. I'm really looking forward to this as I haven't directed many of these kind of workshops before and I think that I'll learn a lot myself as well. I can't wait to see how the kids will react to some of our activities. In this same period I will join Voci Nuove (as a percussionist not a singer) for a performance of a work by Arvo Part. This is a newly-formed chamber choir from Cork who are doing some really great things. Watch this space!
Immediately after the workshops I'll begin a run of the Sound of Music featuring 12 shows at the Cork Opera House. Sometime during this week, I'll also be giving a workshop for the composers in UCC where I'll be performing some of their compositions for percussion and trombone (and I'll be joined by Roddy O'Keeffe for this). Once this is done I'll be working with the Irish Chamber Orchestra for two performances of Rodion Shchedrin's Carmen Suite after Bizet, a work for strings and 4 percussionists (or all things). On the day off in between performances, I'll be performing my own solo recital at the Cork School of Music, which will be the inaugural concert for my new marimba! Can't wait to hear how it sounds in a concert hall. A few days after this, I'll be performing as a soloist again, in the Yamaha Music Foundation of Europe competition, where hopefully I may win something! (or maybe not ...).
To finish off this busy period, and a concert I'm particularly looking forward to, is a performance with the Crash Ensemble on March 3rd at the National Concert Hall for the Dublin New Music festival. Aside from it being my first gig with this group, I'm excited about some of the repertoire that we'll be playing, as well as being part of this brand new festival in Dublin. I think it's a really great initiative and I hope to catch some more performances throughout that weekend (when I'm not rehearsing that is). Heiner Goebbels' Red Run sounds like it'll be a nice play and good fun! Simon Steen Andersen's Chambered Music looks crazy! Found a pdf score online and the instruments I could be playing includes a vibraphone, straw, vacuum cleaner pipe, needle, sand paper, cardboard, suitcase (in fact, I know a solo piece for suitcase actually), jam jars, metronomes, paper and more!
Once all this is over I'll be heading to Graz in Austria for a while. Maybe I'll be able to get some sleep hopefully? Now, I must go do some practice! It's crazy how when when I had lots of time, like I had this month, I didn't take advantage and learn everything I need to learn in advance. In busy periods I always find I have more time for practice for some reason.
On it's way - Can't wait!!!
Thursday, January 10th, 2013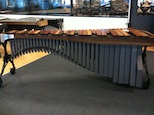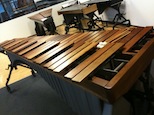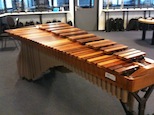 Yesterday I visited the Adams factory in Holland and a look at quite a few instruments. Here's what I chose (was the best sounding marimba on display by far). Thanks again to Music Network for providing support.
So many people have said to me that the only time percussionists play marimba is in college. Well, that certainly won't be me!
New marimba coming soon
Monday, December 24th, 2012

Nice ...
Thanks to Music Network for this funding. Can't wait until January 9th when I travel to the Netherlands to have a look at a few instruments!
Internet explorer ... grrr
Thursday, December 13th, 2012
Spent 2 hours this morning trying to get this website to work with Internet Explorer. Don't know how IE still has around 30% of the market share.

New website and first post
Tuesday, December 11th, 2012
So I finally decided to set up a website for myself. I have to say that I'm really glad I created it by myself from scratch, forcing me to learn a bit of HTML and CSS (which I'm sure will be useful to me in the future). Nothing like learning a new skill.